Charlie Cheval
---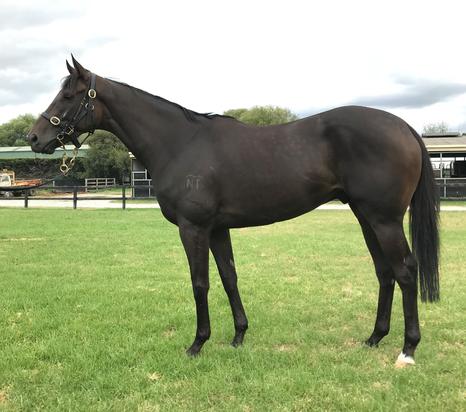 Sire: Myboycharlie
Dam: Constant
Gender: Gelding
Age: 4 year old
Foaled: Oct 14th, 2013
Country: Australia
---
Owners
Mrs L B Alderson, Ms C M Alderson, C Tomlinson, C D Tomlinson, T W Danaher, D Nyssen, W Sparkes, T Harvey, T R Cooke, Mrs K S Cooke, S Chisholm, R Patane, J Patane, Mrs G Sparkes & Lustordan (Mgr: S A Tori)
---
Career Record: 15-1-2-3
Prizemoney

$33,408.00

Wins

6.7 %

Place

33.3 %
---
Pedigree
CHARLIE CHEVAL (AUS)

Bay or Brown gelding
Foaled in 2013

---

| | | | |
| --- | --- | --- | --- |
| Sire | Danetime | Danehill | Danzig |
| MYBOYCHARLIE (IRE) | | Allegheny River | Lear Fan |
| 2005 | Dulceata | Rousillon | Riverman |
| | | Snowtop | Thatching |
| Dam | Grandera | Grand Lodge | Chief's Crown |
| CONSTANT (AUS) | | Bordighera | Alysheba |
| 2005 | Constance | Machiavellian | Mr. Prospector |
| | | La Confederation | Nureyev |

---

MYBOYCHARLIE (IRE) (Bay 2005-Stud 2009). 4 wins-3 at 2, Deauville Prix Morny, Gr.1. Leading Sire of 2YOs in France in 2016. Sire of 543 rnrs, 314 wnrs, 15 SW, inc. Jameka (VRC Oaks, Gr.1), Euro Charline, Peggy Jean, Charlie Boy, Blueberry Hill, Camprock, Charles Road, Zelady's Night Out, Landfall - Rise High (H.K.), Sistercharlie, Cheikeljack, Salai - Skyrockets (H.K.), Art of Raw, Sweet Charity, Royal by Nature, SP Chu Chu Charlie, etc.

1st dam

CONSTANT, by Grandera. 3 wins at 1400m, 1600m, VRC Western Health Foundation H., 3d MRC Swell Time H. Dam of one named foal-

Charlie Cheval (g. by Myboycharlie). Winner. See below.

2nd dam

CONSTANCE, by Machiavellian. Unraced. Half-sister to Vituisa (dam of VERACITY, VALLETTA, VASSAL). Dam of 9 named foals, all raced, 6 winners, inc:-

Cross Constance. 7 wins from 1600m to 2250m, A$109,185, SAJC Blaze Magazine H., 2d SAJC One Solution Mobile & Data H., 3d SAJC Evright.com H., Centrebet H., Hindmarsh Plumbing H.

Magical Stance. 5 wins from 1400m to 1900m, A$347,095, to 2016-17, ATC More Than Ready H., One Solutions H., Renew Your NRL Club Membership H., 2d ATC TAB More Than Winning H.-twice, National Farmers Federation H., I Am Invincible at Yarraman Park H., Schweppes H., 3d ATC Tab.com.au P., Choose Segenhoe H., Ascend Sales Trophies H., Pacific Boating H., Hospitality H., Drummond Golf H.

Numbers. 4 wins from 1200m to 1900m, A$84,355, ATC Theraces.com.au H., All Too Hard at Vinery H.

Constant. 3 wins. See above.

Adhere. 2 wins at 1300m, 1400m in 2016-17, 3d SCTC XXXX H.

Equiano. 2 wins at 1400m, 1600m in Aust.

Expedikid. Placed at 3, 2d HKJC On Ting H.

3rd dam

LA CONFEDERATION, by Nureyev. 3 wins at 1600m, 2000m, Newmarket Sun Chariot S., Gr.2, Yarmouth John Musker Fillies S., L, Longchamp Prix de la Prairie, 4th Arlington Park Beverly D S., Gr.1. Dam of 3 foals, 2 to race, both winners, inc:-

Vituisa. Winner at 2200m, 2d Saint-Cloud Prix de la Cote d'Argent, 3d Longchamp Prix des Tertres. Dam of-

VERACITY (Lomitas). 5 wins from 2400m to 3600m, £127,232, €28,575, 496,800Dhs in GB and U.A.E, Newmarket Jockey Club Cup, Gr.3, Nad al Sheba DRC Gold Cup, Newmarket 32Red.com H., 2d Goodwood Cup, Gr.2, Royal Ascot Queen's Vase, Gr.3, Nad al Sheba Concourse S., 3d Longchamp Prix Royal Oak, Gr.1, Yorkshire Cup, Gr.2.

VASSAL (Dansili). 7 wins from 1800m to 2400m, €6,500, A$422,700, to 2017-18, ATC Christmas Cup, L, Open Markets & BMYG H., Tab.com.au H., Hyland Race Colours H., TAB Rewards H., 2d ATC Tattersalls Club Cup, L, BRC Mother Mary Magdalan Burke H., GCTC Taste the Difference H., Ipswich TC Spring Stayers Cup H., ATC Colin Gray H., 3d ATC Blacktown Workers H., Bowermans Furniture H., Randwick Mayor's Cup, 4th ATC Australia Day Cup, L.

VALLETTA (Cape Cross). 3 wins at 2400m, 2600m, La Teste Grand Prix Inter-Regional des 3 Ans, L, Toulouse Derby du Languedoc, L. Producer.

Terra Verde (Indian Ridge). 3 wins at 1500m, 1600m, Bordeaux Prix Nelcius, Chantilly Prix de Saint-Nicolas d'Acy, Deauville Prix des Archers, 2d Deauville Prix de Tourgeville, L.

Avongrove (Tiger Hill). Winner at 2200m, Longchamp Prix de la Celle Saint-Cloud, 2d Longchamp Prix de la Seine, L, 4th Chantilly Prix de Royaumont, Gr.3. Dam of-

Don't Give Up. 4 wins from 1400m to 2000m to 2017-18 in GB and U.A.E, Meydan EGA Potlines Trophy H., Land Rover Discovery H., 2d Newmarket Adnams Innovation H.

Welford. 2 wins at 2, Chester British Stallions 2YO S.

Shoshoni. Winner at 1500m, Rome Premio Mindella.

Secret Plot - Ssaqer Alaerab (Sau.). 2 wins at 1600m, 2000m in U.A.E.

4th dam

UNITE, by Kris. 3 wins at 1m, 1½m, £256,288, Irish Oaks, Gr.1, The Oaks, Gr.1, Ascot Insulpak S., 2d Ascot Blue Seal S. Sister to Point of Honour (dam of DEL DEYA), three-quarter-sister to LIVERSAN. Dam of 7 foals, 4 to race, all winners, inc:-

LA CONFEDERATION (Nureyev). 3 wins. See above.

United Kingdom. 3 wins at 1600m, 2000m, Newmarket More O'Ferral S., 4th Maisons-Laffitte Prix Tantieme, L. Dam of-

Worlds Apart. Unraced. Dam of-

New Zealand (Galileo). 2 wins at 1¼m, 11f, €101,047, 2d Irish St Leger, Gr.1, 4th Criterium de Saint-Cloud, Gr.1.

Afraah. Unraced. Dam of-

Kiteflyer (In the Wings). 2 wins-1 at 2-at 7f, 1½m, Curragh Thalgo Ladies Derby, 2d Cork Give Thanks S., L. Producer.

Race Record: 13 Starts 1-2-3 A$32,760.

Winner at 1400m in 2016-17, MRC Crown Lager P.