Knightly Thoughts
---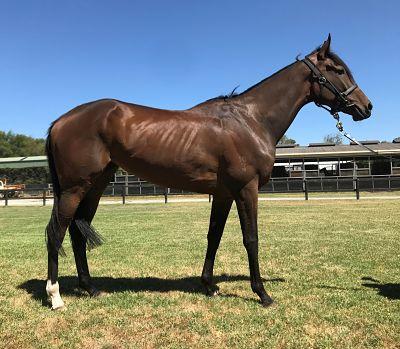 Sire: So You Think
Dam: Chevaleresse
Colour: Bay
Gender: Mare
Age: 4 year old
Foaled: Oct 8th, 2013
Country: Australia
---
Owners
P & K Aherne, A Harman, P Lord & Supreme Thoroughbreds
---
Career Record: 7-0-0-1
Prizemoney

$6,355.00

Wins

0.0 %

Place

14.3 %
---
Pedigree
KNIGHTLY THOUGHTS (AUS)

Bay mare
Foaled in 2013

---

| | | | |
| --- | --- | --- | --- |
| Sire | High Chaparral | Sadler's Wells | Northern Dancer |
| SO YOU THINK (NZ) | | Kasora | Darshaan |
| 2006 | Triassic | Tights | Nijinsky |
| | | Astral Row | Long Row |
| Dam | Danehill | Danzig | Northern Dancer |
| CHEVALERESSE (IRE) | | Razyana | His Majesty |
| 2004 | Knights Baroness | Rainbow Quest | Blushing Groom |
| | | Knights Beauty | True Knight |

---

SO YOU THINK (NZ) (Bay or Brown 2006-Stud 2012). 14 wins-1 at 2, MVRC WS Cox P., Gr.1-twice. Sire of 236 rnrs, 111 wnrs, inc. SW La Bella Diosa (New Zealand One Thousand Guineas, Gr.1), Inference, Gold Rush, Northwest Passage, Global Thinking, Care to Think, SP Coral Coast, Mr So and So, Neguev, I Thought So, Kaching, Smart as You Think, So Si Bon, So You Too, Closer Still, Calculated, Coachwhip, The Pinnacle, Shapes, Conscious, etc.

1st dam

CHEVALERESSE, by Danehill. Unraced. Half-sister to RIYADIAN, Wales, Jojeema (dam of CHARLES THE GREAT). Dam of six named foals, all raced, four winners, inc:-

CHEVAUCHEE (f. by High Chaparral). 3 wins at 1200m, 1600m, R327,525, Kenilworth Olympic Duel S., L, Ladies Mile, L, 2d Kenilworth Laisserfaire S., L, 3d Kenilworth Jet Master S., L.

Pretty Kool Kat (f. by Tale of the Cat). 4 wins to 1200m in Aust.

Sassy Sal (f. by High Chaparral). 2 wins at 1600m, 2000m in South Africa.

Coral Reef (f. by Galileo). 2 wins at 1750m, 1900m in Aust. Dam of-

Hollywood Mo (Uncle Mo). Placed at 3, A$98,435, in 2016-17, 2d Geelong Classic, L, ATC TAB P., 3d ATC Hyland Race Colours P.

Sons of Glory. Winner at 1700m in Aust.

Knightly Thoughts (f. by So You Think). See below.

2nd dam

KNIGHTS BARONESS, by Rainbow Quest. 2 wins-1 at 2-at 1m, 1½m, £152,438, Irish Oaks, Gr.1, 2d Doncaster May Hill S., Gr.3, Lingfield Oaks Trial S., L, 3d The Oaks, Gr.1. Half-sister to Stormy Beauty (dam of ALCHEMY). Dam of 12 foals, 8 to race, 5 winners, inc:-

RIYADIAN (Polish Precedent). 5 wins from 9f to 1½m, £166,660, 240,000fr., Newmarket Jockey Club S., Gr.2, Ascot Cumberland Lodge S., Gr.3, Doncaster RJB Mining S., 2d Newmarket Champion S., Gr.1, Lingfield Derby Trial S., Gr.3, 3d Grand Prix de Saint-Cloud, Gr.1, Sandown Gordon Richards S., Gr.3, 4th Sandown Brigadier Gerard S., Gr.3. Sire.

Wales (Caerleon). 4 wins-1 at 2-from 1m to 1½m in GB and U.S.A, Goodwood Racing Channel S., Newmarket Saxon Street H., Goodwood Royal Navy 2YO S., 3d Royal Ascot Chesham S., L.

Essex. 9 wins from 1½m to 2½m, £74,647, €339,516, Curragh Irish Cesarewitch H., Fairyhouse Sherry Fitzgerald Hurdle, Leopardstown Pierse H. Hurdle, Newbury Trophy H. Hurdle, Tipperary Grimes Hurdle, 2d Galway H., Curragh September H., Leopardstown Craobh Chomortas Na Marcach H., Fairyhouse Ladbrokes.com Hurdle, Punchestown Morgiana Hurdle, 3d Punchestown Champion 4YO Hurdle.

Jojeema. Unraced. Dam of-

CHARLES THE GREAT (Holy Roman Emperor). 7 wins-2 at 2-to 1200m, £105,967, HK$15,073,000, HKJC BOCHK Wealth Management Jockey Club Sprint, Gr.2, Sprint Cup, L, Sha Tin Vase, L, Briar H., Newbury Weatherbys 2YO Super Sprint, HKJC Chennai H., 2d HKJC Chairman's Sprint Prize, L, Sha Tin Vase, L, Happy Valley Trophy, Hong Kong Exchanges Challenge Cup, France Galop Cup, Choi Hung H., 3d Goodwood Molecomb S., Gr.3, HKJC Queen's Silver Jubilee Cup, L, Premier Bowl H., L, National Day Cup, L, Sha Tin Sprint Trophy, L, Chinese New Year Cup, Hong Kong Exchanges Challenge Cup, Chater H., 4th HKJC Premier Bowl H., L, Sha Tin Vase H., L, Chinese Club Challenge Cup, L.

Our Gabrial. 3 wins from 8¾f to 1½m, Ascot Shergar Cup Classic, 2d Ascot Canisbay Bloodstock H., Doncaster Racing Post Weekender Nursery H., 3d York Garbutt & Elliott S.

3rd dam

KNIGHTS BEAUTY, by True Knight. 12 wins-1 at 2, US$243,687, Churchill Downs Kentucky Cardinal H., L, Hawthorne Indian Maid H., L, Gala Fete H., L, 2d Ak-Sar-Ben Quivira H., L, Fair Grounds Furl Sail H., L, Fairmount Park Miss St Louis S., L, Sportsmans Marion H Van Berg Memorial H., L, 3d Ak-Sar-Ben Queen's H., Gr.3, Churchill Downs Blue Delight S., L, Sportsmans Sixty Sails H., L. Half-sister to GEISWAY, Broadway Forbes. Dam of 4 foals, 3 to race, inc:-

KNIGHTS BARONESS (Rainbow Quest). 2 wins. See above.

Captive Heart. Placed in GB and Aust. Dam of-

Caught in the Dark. 4 wins-1 at 2-from 6f to 1m in GB and U.S.A, Epsom Lewis Silken H. Dam of-

UNITAS (Sunday Break). 14 wins-1 at 2-from 5f to 1m, US$456,058, to 2018, Delta Downs B-Connected S., L, Evangeline Downs Louisiana Legends Sprint S., L, Oak Hall S., L, Need for Speed S., L.

Stormy Beauty. Placed in U.S.A. Dam of-

ALCHEMY (Rare Brick). 5 wins from 1200m to 2400m in India, Bangalore Derby, L, 2d Indian St Leger, L, Bangalore Karnataka Cup, L, Chennai Stayers' Cup, L, Poona Idar Gold Trophy, L.

Blazing Flame (Cristofori). Winner at 1100m in India, 3d Bombay Hong Kong Jockey Club Trophy, L.

Race Record:

Placed in 2017-18 in Aust.