Realign
---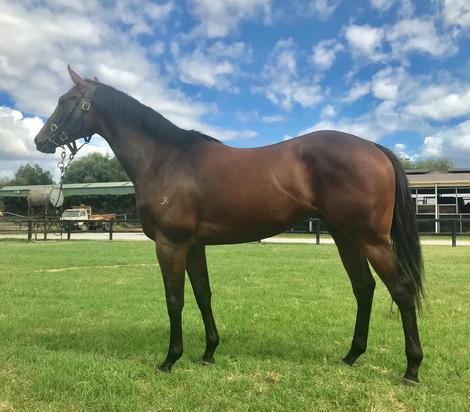 Sire: Reward for Effort
Dam: Analign
Colour: Bay
Gender: Filly
Age: 3 year old
Foaled: Oct 3rd, 2015
Country: Australia
---
Owners
Mrs L B Alderson, Mrs J Stivic, Mrs L Bruhn, Ms A Stivic, Mrs L Cameron, Ms S Liu, Mrs J Keech, Ms D Armstrong, Mrs C Kelly, Ms P Clarke & Ms J Kain
---
Career Record: 9-2-1-0
Prizemoney

$54,100.00

Wins

22.2 %

Place

11.1 %
---
Pedigree
REALIGN (AUS)

Bay filly
Foaled in 2015

---

| | | | |
| --- | --- | --- | --- |
| Sire | Exceed and Excel | Danehill | Danzig |
| REWARD FOR EFFORT (AUS) | | Patrona | Lomond |
| 2006 | Miss Prospect | Rory's Jester | Crown Jester |
| | | Imposing Life | Imposing |
| Dam | Align | Night Shift | Northern Dancer |
| ANALIGN (NZ) | | Super Trend | Red Anchor |
| 2003 | Cupid's Dart | Tinterosse | Kenmare |
| | | Twin Kin | Double Century |

---

REWARD FOR EFFORT (AUS) (Bay 2006-Stud 2011). 4 wins-2 at 2, MRC Blue Diamond S., Gr.1. Sire of 244 rnrs, 138 wnrs, inc. SW Gold Symphony (MRC Vain S., Gr.3), Ability, Brugal Reward, Take Pride, Blondie, Dalradian, Desert Lashes, SP Gratwick, Tuff Bickie, Sheriff John Stone and of Fancy Rumble, Effortless Reward, Hell of an Effort - D'Great Effort (Mal.), Jevilla, Montana Star - Star Superior (H.K.), Petite's Reward, Fully Maxed, Kasi Farasi, etc.

1st dam

ANALIGN, by Align. 3 wins-2 at 2-to 1200m in Aust. Sister to Little Arrow, half-sister to Bowhunter, Commendable. Dam of seven foals, four to race, three winners, inc:-

Astralin (f. by Stratum). Winner at 1200m, 2d BRC Eidsvold Race Club H., XXXX Gold H.

Raven Raider (g. by Carry the Flag). 2 wins at 1000m, 1200m in Aust.

Kiralim (f. by Easy Rocking). Winner at 850m in Aust.

2nd dam

CUPID'S DART, by Tinterosse. Unraced. Dam of 7 foals, all winners-

Bowhunter (Kashani). 7 wins at 1200m, 1400m, A$353,145, MRC Beechcraft H., VRC Geoffrey Levett H., MRC Australia Day H., Gippsland Sprint Series Heat 4 H., 2d VRC Standish H., Gr.3, MVRC Citypac Home Loans H., VRC Kokoda Track H., MRC Gippsland Sprint Final, Syntax H., Grange H., MVRC Members Tour to Hong Kong H., 3d VRC Kensington S., L, MRC Gippsland Sprint Final, VRC Red Tempo Sprint H., Geelong RC Petstock Animal Supplies H., MRC Torbek H.

Little Arrow (Align). 2 wins at 2, MRC Acorn 2YO H., 3d SAJC Jansz S., Gr.3. Dam of-

Smart Dart (Bel Esprit). 9 wins to 1200m, A$308,430, to 2016-17, Pakenham RC Sportsbet Racing Form H., MVRC Sandwich Chefs H., 2d MRC Darren Gauci Farewell H., WIlliam Hill Own the Moment H., 3d MRC Christmas S., L, Bendigo JC Woodside Park Stud H., MRC Bushnell Outdoor Products H., Wangaratta TC VOBIS Gold Eldorado.

Commendable (The Commander). 6 wins from 1400m to 2250m, BTC National Blonde Day H., Computer Alliance H., Flitter H., QTC Ascot Bar H., 3d QTC Easter Cup, L. Dam of-

Comin'through - Here He Comes (Aust.) (Bullbars). 3 wins at 2000m, 2100m, NZ$101,120, A$18,000, in 2016-17, ARC Barfoot & Thompson H., Swisse Wellness Trophy H., 3d ARC City of Auckland Cup, Gr.3, Coca-Cola H., Mondiale H., Auckland Eye H., 4th BRC Grand Prix S., Gr.3.

Comahni. 5 wins from 1200m to 1600m, A$98,250, 2d BRC Buccini Transport H., SCTC XXXX H.-twice, 3d BRC Timeform.com.au H., Programmed Corporate Imaging H., Cox Rayner Architects H., Ambassador Travel H.

The Calibrator. 2 wins at 1100m, 1200m, 3d BRC Student Flights P., Channel Seven H. Dam of-

King Ragnar. Winner at 1000m in 2017-18, SCTC Butler McDermott Lawyers P., 2d SCTC Sky Thoroughbred Central P.

Dotherighthing. 6 wins to 1300m to 2017-18 in Aust.

Limarki. 7 wins to 1500m, A$96,980, BTC Jubilee Hotel H., QTC Killawarra Dusk H., Kaoru Star P., XXXX Gold H.-twice, 2d QTC Breakfast Creek Cricket Club P.

Malumba. 3 wins at 1400m, 1600m, 2d BTC Cleanevent H., QTC JM Kelly Project Builders H.

Ch'eonjeongch'eon. 6 wins from 1000m to 1800m in Korea. Producer.

Analign. 3 wins. See above.

3rd dam

TWIN KIN, by Double Century. Unplaced. Sister to BIGAMY, half-sister to Matrimony (dam of ONE MAN OUT). Dam of 11 foals, 6 to race, 2 winners, inc:-

Say I Do - Happy Guy (Mac.). 4 wins at 1000m, 1200m in Macau, 2d MVRC Don Deli Supreme H., 3d MVRC Qantas Flight Deck H., VATC Blazing Saddles H.

4th dam

MATRIMONIAL, by Paris Review. Unraced. Half-sister to ALYNDA (dam of ALINSKY, ALTRISTA, CAPESTAD, ZALINDA), Sealed Bid, Jewel Box (dam of ASH BLOND), Good News (dam of HIT THE ROOF, WAR ENDS). Dam of 11 named foals, 6 to race, 4 winners, inc:-

BIGAMY (Double Century). 4 wins from 1200m to 1600m, AJC Carbine Club S., L, STC Big Sister H., 3d City Tatt's RC Lightning H., L.

Matrimony. Unraced. Dam of-

ONE MAN OUT (Just a Dancer). 6 wins from 1500m to 2400m, NZ$6,300, A$168,548, AJC Warwick Farm Spring Cup, L, MVRC Dominant Chemicals H., AJC Chester H., A MacKellar H., Avondale JC Blockhouse Bay H., STC Diamond Shower H., 2d STC Park Plaza International Welter H., AJC Reckless H., Avondale JC Lopdell's Restaurant & Bar H., STC Rozelle H., 3d Qld Tatt's RC Tattersall's Cup, Gr.3, AJC Airds H., EN Larkin H., CJC Bush Inn TAB H., Counties RC Country Green Salads H., MVRC Costa's Apprentices Cup, Waikato RC Dividends Sports Bar H., 4th City Tattersall's Club Cup, L, QTC Eagle Farm S., L, STC Winter Cup, L.

Race Record:

Unraced.